Thursday, 14 April 2011
THINGS YOU MAY NOT HAVE KNOWN ABOUT ME
PERSONAL
Name:
Jo Mathews.
Nickname[s]:
Joey, JoJo.
Suburb:
Endeavour Hills / South Morang.
Age:
34.
Birthday:
14 April 1982.
Star Sign:
Aries.
Birthplace:
Quiet possibly in a hospital, but don't quote me on that as I am not too sure on the exact details as they are just a little sketchy, probably because I was being born at the time, but records indicate that I was born in Dandenong Hospital.
Nationalitie[s]:
Australian / Polish.
Language[s]:
English
(native language)
and Polish
(able to speak fluently and read/write with basic competence)
.
FAMILY
Parent[s]:
Aleksander
(Father) (66)
and Grazyna
(Mother) (65)
.
Sibling[s]:
Mirosława
(Sister) (44)
, Barbara
(Sister) (42)
, Leo
(Brother-In-Law) (44)
and Greg
(Brother) (40)
.
Other[s]:
Taj
(Nephew) (15)
and Keana
(Niece) (13)
.
Pet[s]:
Jinx
(Feline / Medium Hair Domestic) (Male) (8)
.
PHYSICAL APPEARANCE
Gender:
Female.
Height:
158 cm / 5'2".
Weight:
If I told you, I'd have to kill you. I weighed 68 kg / 150 lbs the last time I checked.
Eyes:
Brown.
Hair:
Layered / Straight / Medium-Long / Ash Brown
(depending on the season)
.
Piercing[s]:
Yes
(ears, tongue and labret)
.
Tattoo[s]:
Yes
(eight)
.
HOBBIES & INTERESTS
My hobbies and interests include reading and writing, singing and dancing, listening to music, surfing the Internet, playing pool, in-line skating, film and television, photography, tattoos, body piercings, traveling and socialising.
MISCELLANEOUS
Relationship Status:
Married.
Drink:
On special occasions.
Drugs
:
Over the Counter, Pharmacy Only and Prescription Medication.
Smoke
:
Once in a while.
Sexuality:
Bi-Sexual.
EDUCATION
Schools:
-
Southern Cross Primary School
(Endeavour Hills) (1987 to 1993)
-
Eumemmerring Secondary College
(Endeavour Hills) (1994 to 1997)
-
Eumemmerring Secondary College
(Hallam) (1998 to 1999)
-
Victoria University of Technology
(Melton) (2000 to 2001)
-
Victoria University of Technology
(St Albans) (2002)
EMPLOYMENT
Occupation:
Skrap That Metal Recyclers - Assistant
CONTACT DETAILS
e-mail:
roooogirl @ hotmail . com
(just remove the spaces)
.
mobile:
+61 0419 317 446 - call me, call me now only $0.99 cents per second.
PREFERENCES
Adidas, Nike, Puma or Reebok?
New Balance.
Beach, City, or Country?
I don't particularly like the smell of seaweed or enjoy getting sand in every nook and cranny, although the Ocean is nice to look at, the Beach just isn't one of my favourite places. I've been to a number of marvelous Cities, but I'd have to say that I have a weak spot for the Country.
Beatles or Stones?
While I enjoy both, ultimately the Beatles are much more varied and complex, they have a greater range than the Rolling Stones, it's a shame their career didn't last as long.
Blanket or Stuffed Animal?
Blanket and an army of Stuffed Toys, I'm afraid of the dark, I need the extra protection.
Bridges or Tunnels?
Bridges, there are no additional exits from a Tunnel.
Buttered, Plain, or Salted Popcorn?
Buttered and Salted.
C
offee, Tea, or Decaf?
Coffee, I'm a caffeine junkie.
Coke or Pepsi?
Coke, Pepsi just has this sickeningly sweet taste.
Croutons or Bacon Bits?
You can't have one without the other.
Day or Night?
Night, I'm not a morning person.
Ford or Holden?
Toyota.
Gold or Silver?
White Gold.
Lace or Satin?
Leather.
Mac, PC, or Unix?
Unix holds a certain fascination simply because the code is so raw.
Marilyn Monroe or Audrey Hepburn?
Definitely Audrey Hepburn, she is the epitome of classic elegance.
Milk Chocolate, White Chocolate or Dark Chocolate?
I prefer Milk Chocolate because White Chocolate is too sweet and Dark Chocolate too bitter.
One Pillow or Two?
One.
Red or White Wine?
Moscato.
Roller Coaster: Scary or Exciting?
I wouldn't say "scary," but I do enjoy them.
Sprite or 7UP?
Aren't they the same thing?
Storms: Cool or Scary?
I love a good storm, not being out in it, mind you.
Summer or Winter?
Neither, I don't enjoy being hot or cold.
Two or Four Doors?
Four, more exits.
FAVORITES
Advertisement:
I don't like any of them.
Artist:
Ed Sheeran recently made her return to the music industry after a twelve month absense and his new album Divide has some fantastic music and lyrics, and is due for release in early March 2017.
Author[s]:
I quiet enjoy reading fantasy, so I have a number of favourites, David Eddings, JRR Tolkien, Stephen Donaldson, Stephen King and Trudi Canavan just to name a few.
Band:
I've held a spot in my heart for LIVE for quite some time.
Board Game:
Nothing beats good old Monopoly.
Book[s]:
The Chronicles of Thomas Covenant, The Unbeliever
(Stephen R. Donaldson)
.
Car:
Ford Falcon XY GTHO Phase III
(300 XY GTHO Phase III's were built between May 1971 and November 1971)
.
Cartoon Character:
The Griffins' from Family Guy as I find that they're always capable of making me laugh!
Colour[s]:
I can't decide, but it's between pink and blue.
Colour of Socks:
Clean! What a ridiculous question.
Day of the week:
Friday.
Dessert:
Fudge Sundae - three scoops of ice-cream with pure whipped cream, sour cherries, sprinkled with roasted almonds and served with hot fudge.
Disney Character:
Eeyore.
Drink[s], Alcoholic:
None.
Drink[s],
Non-Alcoholic:
Water, Tea and Coffee.
Fast Food Restaurant[s]:
I don't really care for "fast food" as such, but if I must stop to eat. Dancing Wok, Grain Sushi, Wok'd.
Flower[s]:
I love pink Roses and Casablanca Lilly's.
Food:
I somehow managed to narrow down the list to my "I can't live without" food - cheese.
Ice-Cream[s]:
Salted Caramel.
James Bond:
Sean Connery, of course. The original, classic Bond. Brilliant and debonair. Daniel Craig has the look, but not the gravitas.
Magazine:
Why waste my money on them, I'd rather read a good book.
Movie:
Something with lots of blood and gore. Failing that, anything with a ripping good plot.
Outfit:
I like to be comfortable, so jeans, t-shirt and sneakers.
Online Game[s]:
I don't play any on-line games.
PC Game[s]:
The Sims and Theme Hospital.
Perfume[s]:
My favourite perfumes are the Heat range by Beyonce, but I basically like anything that's not too heavy or sickly sweet.
Pizza Topping:
Cheese, Cheese and more Cheese!!!
Place to be kissed:
Well, that's a bit personal, don't you think?
Quote[s]:
The Family Prayer
"And Shepherds we shall be For thee, my Lord, for thee Power hath descended forth from Thy hand Our feet may swiftly carry out Thy commands So we shall flow a river forth to Thee And teeming with souls shall it ever be In Nomine Patri Et Fili Spiritus Sancti."
- The Boondock Saints (1999)
II Duce's Prayer
"And when I vest my flashing sword And my hand takes hold in judgement I will take vengeance upon mine enemies And I will repay those who hase me O Lord, raise me to Thy right hand And count me among Thy saints ."

"Whosoever shed last blood By man shall his blood be shed For immunity of god make he the man Destroy all that which is evil So that which is good may flourish And I shall count thee among my favoured sheep And you shall have the protection of all the angels in heaven."

"Never shall innocent blood be shed Yet the blood of the wicked shall flow like a river The three shall spread their blackened wings and be the vengeful striking hammer of god."
- The Boondock Saints (1999)

Rapper: I'm more than likely going to cop a lot of shit for this but it has to be Eminem!

Restaurant[s]: That's a tough question because there are so many good restaurants out there, but a few of my favourite local places to eat at would be, China Bar, Hogs Breath, Pancake Parlour, Noodle Kingdom and TGI Fridays,

Salad: Greek.

Salad Dressing: Ranch.

Sandwich Filling[s]: Light Rye, Avocado, Spinach, Cheese, Ham, Tomato, Mixed Lettuce, Mustard and Japanese Mayonnaise.

Sesame Street Character: Slimey.

Shampoo and Conditioner: Organic Care, I don't use Conditioner.

Soap: Anything that smells nice and does the trick.

Song: At the moment it would have to be "Shape of You" by Ed Sheeran.

Sport to Watch: I don't follow organised sports.

Favourite Subject: Movies.

Favourite Thing[s]: Family and Friends.

Least Favorite Subject[s]: Politics and Sports.

Least Favorite Thing: People who annoy me.

Music: Alternative and the Top 40.

Toothbrush: Oral B.

Toothpaste: Colgate Max Fresh Liquid Toothpaste (Cool Mint).

Tree[s]: Oak and Willow.

TV Character: Dean Winchester, Sam Winchester and Castiel.

TV Show[s]:

I have more than one favourite, I'd be here all day listing them all - at the moment I'm loving Bones, Grimm, Lucifer, Supernatural, The Walking Dead and Z Nation.

In the past there was 3rd Rock from the Sun, Angel, Buffy the Vampire Slayer, Charmed, CSI: Crime Scene Investigation, Dark Angel, Dexter, Sabrina the Teenage Witch, Smallville and Tru Calling.

I still enjoy watching Family Guy and The Simpson's.

Warner Bros. Character: Wile E. Coyote.

Website: LiveJournal

Word[s] or Phrase[s]: Let's just say you won't find them in the dictionary.

Zoo Exhibit: Wombats, they're so fat, cute and lazy, they remind me of someone I know.

PERSONAL QUESTIONS

Do you get along with your Parents? Sometimes, we're usually civil, does that count?

Dumper or Dumpee: A little from column a. a little from column b.

Ever thought an animated character was hot? Yes, as embarrassing as that sounds, Aki Ross from - Final Fantasy: The Spirits Within (2001)

Had a crush on a teacher? Of course, who hasn't?

Have you ever been convicted of a crime? Not that I know of.

Have you ever gone skinny-dipping? Yes, a few times.

If you had a big win in the lottery, how long would you wait to contact people? I don't play the lottery; it's a tax on the mathematically stupid.

Last person/people you went to dinner with? Brett (Husband) at Ribs & Burgers.

Place[s] Lived: Dandenong, Endeavour Hills, Maribrynong, South Morang and a few other places.

Tell us a valuable life lesson: You only get one chance at life, so live each day as if it were your last.

What characteristics do you despise? Bigotry. Cruelty. Homophobia. Insensitivity. Racism. Rigidity.

What did you do for your last birthday? I had Dinner with my family and friends at TGI Fridays', then went back to my house for cake.

What did you want to be when you grew up? I had a few career goals, Ballerina, Doctor, Figure Skater, Lawyer, Surgeon, Psychologist/Psychiatrist or a Writer.

What do you look for in a partner? Tolerance, patience with my endless foibles and faults, a sense of humor and intelligence.

What is one of the nicest things you've ever done for another person? Robbed them of their virginity!

What would you like to accomplish before you die? Write a novel.

Where do you see yourself in 10 years? Alive, hopefully.

RANDOM QUESTIONS

Been in a car accident? Yes, two major and a few minor.

Been on Stage, Television or in a Movie? I was in a few school plays and I enjoy a bit of karaoke every now and again, an audience member on Who Wants to Be a Millionaire? (1999) and also an extra in the movie Strange Bedfellows (2004)

Best thing in the World? As soppy as this is going to sound, big hugs.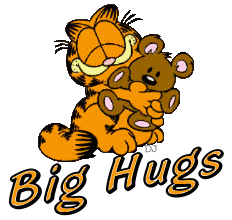 Cried during a movie? Yeah, laughed so hard it made me cry!

Cut your own hair? A few times.

Fashion: Anything clean that doesn't require ironing.

First thing you think of when you wake up? What time is it?

Friend[s] who lives farthest away? Natasha, Andrew and Linda (Warrigal).

Greatest pet peeve? When you're talking to someone and they don't listen.

Last new thing you bought for yourself? Car (1996 Toyota Corolla Conquest).

Lucky Number: I haven't one.

Movie[s] you would watch over and over again? Anything with Arnold Schwarzenegger.

Places I've been on Vacation? Germany, Poland, the United States and a lot of places in Australia (Victoria, New South Wales, ACT, Queensland and Tasmania).

Website[s] visited Daily / Weekly / Monthly? Facebook, Hotmail, Gmail, TPG, IPT, PB, IMDb and YouTube.

What are you most afraid of? The unknown.

What do you do most often when you are bored? I usually read, do a cross word or sudoku puzzle, listen to music, watch television or a DVD or surf the Internet.

What is the best book you read? The Redemption of Althalus (David and Leigh Eddings).

What was the last film you saw at home? I can't remember. I'm not going to get points off for that, am I?

What words or phrases do you overuse? f@#k, c@#t and other various profanities!

What's the best feeling in the World? Let's just say it starts with an O and ends with an M!

What's under your bed? That's classified information.

Which Celebrity do you fancy the most? The Expendables.

Where would you like to visit most? Dubai.

DO YOU BELIEVE IN?

Angels? No.

Destiny / Fate? Yes, I think everything happens for a reason, as stupid as that sounds.

Easter Bunny? I'm not a fan of cute little furry things, with razor sharp teeth!

Friends? Yes.

Ghosts? Yes.

God? No.

Santa Claus? Does it count if my Dad looks like Santa Claus and during the Christmas Season children at the Shopping Centre often yell and point "Look Mummy it's Santa!"?

Tooth Fairy? My Mum was the Tooth Fairy in our house, but she doesn't do it professionally.

UFOs? No.

Yourself? When the occasion calls for it.

FRIENDS AND LIFE

Do you have a boyfriend / girlfriend? I'm married, so I have a husband instead.

Who do you cry with? Me, Myself and I, Oh and my imaginary friend.

Where would you rather be right now? That's a good question.

Final Comment? Thank God, that's over!
Friday, 21 November 2008
FRIDAY...
Greg:
Joey, I've got something for you, it's in the car on the front seat.
Joanna:
*
walks to the car and looks at the front seat
I'm sorry to disappoint you, but there's nothing on the front seat!
Greg:
It might be on the floor.
Joanna:
* looks at the floor
Nope, I ain't seeing it.
Greg:
* walks over to the car and checks the drivers side
Oh, sorry that's because it's under my seat.
* pulls out something from under the drivers side seat and plonks it down on the passenger side seat.
Joanna:
* gasps in excitement and picks up the kitten
Where did you find it?
Greg:
I actually found it down Phil's driveway, I thought I could hear a bird chirping, but when I had a look and I found it instead.
After much consideration, I named him Jinx
(after my LivingDeadDoll)
, he weighs a little under 500g and is approximately 4-5 weeks old.
I am so glad that my brother investigated the "chirping noise", because now I have the beautiful ginger kitten that I have always wanted...
Wednesday, 31 October 2007
JINX
LIVING DEAD DOLLS Series 6
Chipboard Poem
Jinx and her Hellcat make quite a pair.
Their path is paved with bad luck,
So cross it if you dare.
Death Certificate
Breaking mirrors and walking under ladders till she died,
This unlucky kitten used up all of her nine lives.
Date of Death:
7 June 1913
Additional Information
Product Availability:
Laid to rest
http://www.livingdeaddolls.com/